Frequently Asked Questions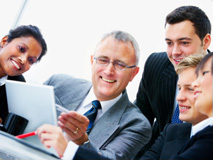 What is the fee structure, and are there any start-up costs?

NightForce Radiology has no minimum fee requirement. Our fees are based on a simple rate according to the number of studies interpreted. We do not charge for set up, credentialing, licensure, or malpractice.

What is the educational and training of your radiologists?

Our radiologists are graduates of US medical schools and ACGME accredited residency programs and are certified by The American Board of Radiology.

What is the expected turnaround time?

Typical turnaround time averages 14 minutes. With our service level agreement, we guarantee turnaround in less than 30 minutes.

How do referring physicians communicate with NightForce?

We fax typed reports, and we also archive reports for subsequent review using RadRequest, our proprietary online request and reporting software. Our radiologists are available for consultation at any time via a toll-free number. You may elect to have an IP phone installed in the ER or your department for immediate and direct communication to our radiologists. We telephone critical findings promptly to the floor or physician.

What technical support services are available?

Our technical support team is available 24/7, 365 days a year.

What are the hours of coverage?

Coverage can be customized to your needs.

What about security and confidentiality?

Virtual Private Networks provide the secure infrastructure for image transfer. Our systems are housed in an SAS-70 secured facility and provide 99.99% uptime. We use Cisco Security agents to secure all internal servers from unwanted network communications, which provides peace of mind to those interested in network security. Our systems are 100% HIPPA compliant.

How many different radiologists will be reading for our hospital?

NightForce Radiology limits the number of radiologists who will be working with your practice to 2-5. We view our radiologists as an extension of your practice; in many cases, ER physicians get to know them on a first name basis.

May some of our radiologists take their own calls?

With our simple fee-per-case pricing structure and no minimums, you have the freedom to use our service as you see fit.

How do you manage quality control?

Since all studies are over-read the next day, we are 100% Peer-Reviewed. Our RadRequest system includes a Quality Assurance module that provides convenient recording and reporting of discrepancies, which are reviewed by our radiologists. Statistics for your departmental records can be generated at intervals you choose.
---
News & Events
AAUCM: American Academy of Urgent Care Medicine

San Diego, CA
Booth #17
---
---