A Strong Partnership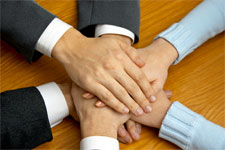 Working together is simple and effective
With NightForce on your team, you'll find that every step of the way is simple and effective. You'll have a radiology partner whose goals are aligned with your own - a partner who cares as much about your business as you do.
Getting Started
When you sign on with NightForce, we assign an Account Manager whose sole responsibility is to simplify your life at every stage of your relationship with us. Our credentialing team will shepherd the paperwork, and our technology team will help establish secure connectivity with our system, including both hardware and software. In many cases, you can be online and operational in less than a week.
Exam Requests
Our proprietary RadRequest system is designed specifically for on-call teleradiology. Once an exam request is made, it is immediately prioritized and routed to a NightForce radiologist, who interprets the images and completes the report. RadRequest ensures that our reports are HIPAA and JCAHO compliant.
Guaranteed Turnaround
RadRequest automatically routes the preliminary report back to the referring physician, and both physicians and authorized hospital staff can track report progress in the system throughout the night. Although we guarantee turnaround in 30 minutes or less, our average turnaround time is 14 minutes. Best of all, we archive all reports for future reference, a value-added service that few other teleradiology services provide.
Quality Assurance
It's built in! Our RadRequest system monitors and reports turnaround time on a daily basis, allowing your team to satisfy hospital QA requirements easily and quickly. Our daily reports include both volume and turn-around times so that you can be sure you're getting the service and results you expect. We're as concerned about your image as you are.
---
News & Events
AAUCM: American Academy of Urgent Care Medicine

San Diego, CA
Booth #17
---
---