About Us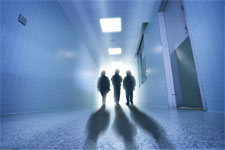 Guaranteed turnaround from the radiology partner you trust.
The founders of NightForce Radiology established one of the first after-hours teleradiology services in 1997 and have been providing superior on-call services ever since. We continue to lead the field because our clients trust our experience, service, security and reliability.
Experience
NightForce is owned and operated by the radiologists who read your images. Our radiologists are all certified by the American Board of Radiology and have an average of eight years experience providing on-call teleradiology coverage. And because they have a vested interest in our company, they stay with us, developing long-term relationships with our clients. At NightForce, your work will never be outsourced to a disinterested subcontractor. We know how important your work is to you, and we care.
Service
NightForce gives you the freedom and peace of mind you dream of: We guarantee report turnaround in thirty minutes or less, and our average turnaround time is only 14 minutes. Our proprietary RadRequest system simplifies requests, reporting, and generating statistics. Our integrated quality and turnaround monitoring system makes sure you get the personalized service and report accuracy you expect.
Security
With NightForce, your data never leaves a secure HIPAA environment. Image data is transmitted to NightForce via a virtual private network (VPN) to our SAS70-secured facility. Because we are entirely U.S.-based, and because we don't forward images beyond the NightForce data center, your data remains secure and private.
Reliability
High-speed transmission and multiple levels of redundancy mean that we're operational when you need us, with a track record of 99.99% uptime. We back that with 24/7 tech support.
---
News & Events
AAUCM: American Academy of Urgent Care Medicine

San Diego, CA
Booth #17
---
---